CONGRATULATIONS TO #21 DEBBY!!
You've won an e-copy of HOWL, a signed copy of Hittin' It and a few other book goodies!  Please email me at amie at amiestuart.com with your snail mail address.
"T
he modern romance genre was born in 1972 with Avon's publication of Kathleen Woodiwiss's The Flame and the Flower, the first romance novel "to [follow] the principals into the bedroom." Aside from its content, the book was revolutionary in that it was one of the first single-title romance novels to be published as an original paperback…"*
I'm PRETTY sure this was the first romance I ever read…or was it Rosemary Rogers? heeh either way, I've been a voracious reader all my life. I quickly moved on to Harrold Robbins and V. C. Andrews and…Harlequin Presents. So, do you remember your first romance novel?
Today we're giving away a copy of Carolyn Jewel's Scandal, which went on sale YESTERDAY! Happy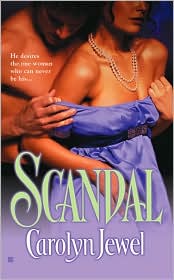 release, Carolyn!  I actually met Carolyn when she guest-blogged at Southern Fried Chicas last year.  But we're both on Twitter, and even though Carolyn writes historicals and I write contemporaries, we have something else in common. We're both working moms.
So here' s a little more about Scandal from my good friend Katie:Â  Gwilym, Earl of Banallt, has quite a reputation of being a womanizer and a rake. Scandal follows him wherever he goes. Women practically fall at his feet, except for the one woman who has become an obsession. Sophie Evans, a widow he first fell in love with, while her husband was still alive. Tommy Evans married Sophie for her fortune, and left her in the country while he continued his debauched lifestyle in London. Banallt was one of Tommy's friends who joined him as he cut a path through London. The few times when Tommy would return home to see his wife, Banallt was with him, and the moment he met Sophie, his heart was hers forever. Banallt and Sophie formed a tentative friendship even after he tried to seduce her. Banallt shared so many things with Sophie and was ready to whisk her away to be his mistress. Sophie denied him and remained faithful to her marriage vows even when her husband did not. After her husband died she wanted nothing more to do with Banallt. Now over a year later, he has returned and will make Sophie his wife and this time he won't be denied.

When Sophie sees Banallt with her brother, Mercer, she is shocked and scared. She and Banallt have quite the past and she refuses to be one of the many women he uses and discards. Her marriage left her emotionally scarred; she was so in love with her husband, and he in turn did the worst possible thing a husband can do to his wife, he broke his marriage vows. Sophie will never marry again and definitely not to Banallt. But Banallt won't let her be. Although she wants his friendship, it is too much of a temptation for her. And though Banallt says he has changed, Sophie cannot trust him with her heart. She would be destroyed if she fell for another man who would not be faithful to her. And since Banallt is so much like her dead husband in that respect, she won't give herself to him even though she craves him with every sense of her being.

Banallt knows he must treat Sophie with tenderness and respect and show her he has changed, otherwise she will never accept him. Very slowly, he is able to break through Sophie's defenses. She reaches a point where she wants him in her life even though she won't admit her feelings to him. Suddenly, a horrible tragedy happens to Sophie and she has no where else to turn to except to Banallt. This is Banallt's chance to have everything he has ever wanted. He longs to hear Sophie say that she loves him as much as he loves her. The question is, will Sophie be able to give Banallt what he wants?
I have to tell ya'll, after reading all those Harlequin Presents when I was a teen, I love me a reformed rake! WOOT! So ya'll leave a comment to be entered into today's drawing!