Sorry I'm late this morning….it's been a killer week and #1 son is STILL down with the flu!!!
CONGRATULATIONS TO #15 Tiffany!! Please shoot your snail mail address to amie at amiestuart.com and I'll get your books out to you!!!
Since, you know, Valentines is about love…usually romantic love….I thought today we could chat about…romance.
There are 3 great things in this world.
The first thing is for you to love someone.
The second thing
is for someone to love you back
and the third greatest thing is for the first
and second thing
to happen at the same time…
If it wasn't for romance I suppose none of us would be here, huh? LOL I'll admit, as much as I'm a cynic, I'm also a bit of a closet romantic–but don't tell anyone, okay?  They say the way to a man's heart is through his stomach….but what's the way to a woman's heart? What makes your toes tingle and brings a smile to your face? What's the most romantic thing a man (or a woman!) has ever done for you?
Leave a comment and be entered to win a signed copy of Lucinda Betts's The Supplicant. You can read an excerpt here. Of course I'm also giving away a signed copy of your choice–Make U Sweat or Hittin' It.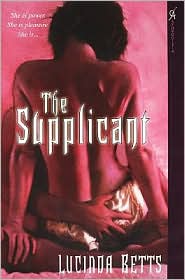 Her ecstasy makes wishes come true…
The sudden appearance of a second sun signifies that a Supplicant has come of age in the land of Marotiri. King Kalief knows this woman is destined to save his people from the barbarians. But first she must learn complete surrender—and King Kalief is just the man to teach her…
Sureya, a humble servant girl, is shocked to learn that her flame—red hair and white skin mark her as the Supplicant. She has never made love to anyone. There are many men—both good and evil—who are waiting to introduce Sureya to this new world of pleasure, but only Kalief can truly satisfy her…
With each shattering climax, the Supplicant's powers grow as dark forces come closer to taking her for their own. Now as Kalief and Sureya propel each other to dizzying sensual heights, danger and desire will become one—and one wish will change everything…