Or in which I prattle on about why my arms hurt–finally. And no, Jaq, it has nothing to do with a toy called D 😛
I got my tax refund last week. Now I've had my eye on a new toy for quite some time. I've actually been drooling over it, salivating mind you, waiting for the day I could plunk down my hard earned money and take it home, rip it out of the box, and play with it to my heart's content. I even went by the store a couple weeks ago to see it in person and make sure it was the one I really truly wanted. I must say it was love at first sight. I dreamed about it night and day, waiting patiently for the time I could claim it as my very own.
There was of course a problem or two–most notably, there was no way it would fit under my bed. I'd just have to store it in the garage…and of course the boys would want to use it, no matter how often I said, "Don't touch Mommy's toys!"

Say hello to the Hedge Hog, 20 inches of double-sided cutting power trimmer. It even comes with a warranty!
I think I'm in love……..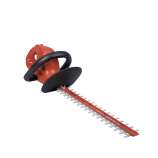 Look out Tim Taylor, next up is an electric chain saw! :woot: