CONGRATULATIONS TO ANGIE – Comment #1!!! Please email me your snail mail address at amie at amestuart.com so I can get your books out to you. Don't forget to let me know if you want Hittin' It or Make U Sweat!
Since I know some of Larrisa's readers have gotten ink in honor of her hawt demons….I thought today we'd talk about our love of ink *g*. I've got three tats and the fourth already planned–despite the fact the third one hurt like hell. I do NOT recommend getting one on or near your spine (especially two weeks after you get the cartilage in your ear pierced–it makes for some bad nights).
So….do you have ink? Would you have ink? Or is your body a temple. If it didn't hurt, what would you get?
Me? I want a dragon on my calf….get ready Lynn!
We're halfway done with our 14 days of love contest and still going strong!!! Up for grabs today is a copy of Pleasure Unbound (which totally RAAWKS!) or a copy of Desire Unchained (which I just KNOW will RAWK!)….and a demon duckie Heeh! Also…winners choice from my print backlist and other book goodness, so leave a comment to be entered to win.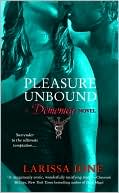 In a place where ecstasy can cost you your life . . .
She's a demon-slayer who hungers for sensual pleasure-but fears it will always be denied her. Until Tayla Mancuso lands in a hospital run by demons in disguise, and the head doctor, Eidolon, makes her body burn with unslakable desire. But to prove her ultimate loyalty to her peers, she must betray the surgeon who saved her life.
Two lovers will dare to risk all.
Eidolon cannot resist this fiery, dangerous woman who fills him with both rage and passion. Not only is she his avowed enemy, but she could very well be the hunter who has been preying upon his people. Torn between his need for the truth and his quest to find his perfect mate before a horrific transformation claims him forever, Eidolon will dare the unthinkable-and let Tayla possess him, body and soul . . .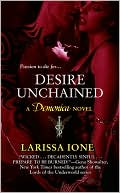 Pleasure is their ultimate weapon . . .
Runa Wagner never meant to fall in love with the sexy stranger who seemed to know her every deepest desire. But she couldn't resist the unbelievable passion that burned between them, a passion that died when she discovered his betrayal and found herself forever changed. Now, determined to make Shade pay for the transformation that haunts her, Runa searches for him, only to be taken prisoner by his darkest enemy.
A Seminus demon with a love-curse that threatens him with eternal torment, Shade hoped he'd seen the last of Runa and her irresistible charm. But when he wakes up in a dank dungeon chained next to an enraged and mysteriously powerful Runa, he realizes that her effect on him is more dangerous than ever. As their captor casts a spell that bonds them as lifemates, Shade and Runa must fight for their lives and their hearts—or succumb to a madman's evil plans. On sale March 2009!