CONGRATULATIONS TO KAMMIE!!!!
Random.org chose 14 as our firs winner. Kammie please email me your mailing address. It's amie at amiestuart.com
Don't forget Jodi will be giving away more books tonight at the Aphrodisia Authors chat at Writerspace.com. (Lacy will also be popping in AND I'll try to remember to stop in too). Chat is from 9 -10 EST
Cupid is the god of erotic love and beauty. Throughout ancient mythological writing, there appear to be either two Cupids or two sides to the figure of Cupid. One is the son of Mars (Ares) and Venus (Aphrodite). He is a lively youth who delights in pranks and spreading love. The other is a son of Nyx and Erebus, known for riotous debauchery. I'm kinda thinking the second version sounds more fun.
So how old were you the first time Cupid got you with an arrow?
Welcome to Day 2 of Love!!! Today's giveaway is from the cutest redhead I've ever met….author Lacy Danes.  Shes' offering up copies of A Red Hot Valentine and Being Wicked.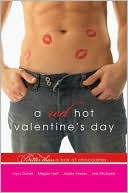 Cupid is hot to trot!
One fateful weekend at a country estate, a beautiful, well-bred widow is caught between a rock and a very hard place when she must choose between two deliciously irresistible lovers…in Lacy Danes's seductive tale of courtship a la mode, Torn Desires.
Long-distance lovers Edie and Ty are counting the hours until their scorching Valentine's Day reunion, each titillating the other with steamy letters describing their erotic journeys. And getting there is definitely half the fun in Megan Hart's wickedly wild Get There.
Eternal damnation has its perks-especially for a voluptuous succubus who is about to receive a very special, very hot Valentine's Day "gift" from her demon lover…in Jackie Kessler's ode to paranormal passion, Hell Is Where the Heart Is.
London's most irresistible rake has one week to prevent the woman he loves from marrying another. And he plans to do so by adeptly employing his most well-practiced arts–seduction…sensation…and erotic love–in Jess Michaels's sumptuous feast of juicy Regency romance, By Valentine's Day.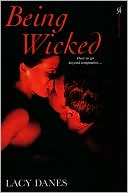 BEING WICKED
It is an evening for rakes and rogues, courtesans and demimondes, and lords and ladies in disguise, all wishing to sample the array of erotic delights around them. But this ball is not the talk of the ton, it is a taste of forbidden ecstasy.
Willful Surrender
Lilly had never dreamed that hiding in her brother's carriage would end in her arrival at a ball such as this. She should be shocked by the bawdy behavior before her, but instead she is intrigued. And when Vincent St. Jerome, London's foremost rake, offers to help her find her brother, she follows him to a room filled with peep holes in the walls. What Lilly sees is pure carnal pleasure and all she desires is complete sexual surrender.
Willing SeductionLady Wentland is a worldly widow who misses the sensual delights she used to share with her husband. So attending the Cyprian's Ball disguised as a courtesan allows her to sample the erotic pleasures she's missed-until she meets Winston Greyton, her brother's best friend and the one man she knows she might have once loved. She resists his first advances toward her-but the heat of their arousal soon ignites a fire of wicked, reckless passion.
——–
Once again, all you have to do to win some books that I KNOW you'll love is leave a comment. I'll announce the first winner at the top of tomorrow's post.