CONGRATULATIONS TO Lucky #13 (no I didn't do this Random.org did!)…Beth R! Your our winner from yesterday. Please email me your snail mail address at amie at amiestuart.com!
Wow….can you believe it? We survived 14 days of love…and I don't know about the rest of you, but I've had a blast! Hopefully we can do this again next year!! I've mailed out about half the books and will get the rest out early next week.
Today….we've got a slew of stuff to give away! An e-copy of Fortunes Promise from my NAS(ty) girl Karen Erickson, a copy of Wild Wild West from the lovely Charlene Teglia, my Aphrodisia backlist, a copy of Sex…on Holiday with my short Summer's Seduction, and a 50.00 gift certificate to amazon.com, borders.com, bn.com or fictionwise.com.
Even if you've won before you're eligible for this drawing.
And don't forget Hittin' It goes on sale in 10 days!  As many headaches as writing Hittin It frequently occasionally gave me, I have to say I really love this book. It contains two novellas with the brothers from the hero of Nailed, Wynn Collier, and where Wynn was the black sheep of the family because he refused to go into the family business (professional hitmen), Will and John DID go into the family business. As a writer, it's hard not to have a vested interest in your characters.
As a reader, it's hard not to develop a vested interest also–that's why i stayed up until midnight reading the latest Karen Marie Monning book heeh….so readers….favorite authors and/or series? Cuz you know, i'm ALWAYS on the lookout for a great read. So leave a comment to be entered to win! I'll announce the drawing winners tomorrow morning. Hope everyone has a lovely Valentines Day!

FORTUNE'S PROMISE
After winning the lottery a year ago with her two best friends, Maddie Carpenter's life should have changed for the better. Right? Wrong. She's still stuck in her boring old life while her friends are living theirs to the fullest.
Watching one of them get married brings all her self doubt into sharp focus. She resolves to do something exciting, something thrilling. Starting right now, with the singer performing at the reception.
Tanner is still bitter over his divorce, bitter toward women in general. But something about sweet and sexy Maddie turns Tanner inside out—and he can't resist her.
One amazing night of sex turns into many nights of more amazing sex. Soon their relationship is moving way out of the casual zone. But both carry excess baggage of suspicion and distrust that could cost them everything…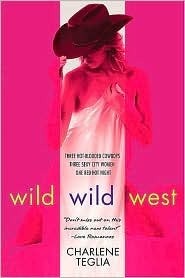 WILD WILD WEST
In one of the most searingly erotic novels ever penned, Charlene Teglia breaches uncharted territory. But reader beware: this tale is hotter than hell. The faint of heart should turn back now…
Three sexy city girls from Seattle are enjoying a night out at a chic coffee house in downtown Missoula, Montana, the heart of the old West. When a gang of cowboys mosey in looking for trouble, they find trouble of the best kind – and these boys are primed and ready to ride. There�s Gabe, the hard-bodied rancher with a wicked imagination. Chet, the rodeo cowboy who�s charmed the pants off more than a few country girls and vows to remain a bachelor for life. And Reuben, the former Army ranger with a taste for edgy sexual games. As the couples embark on a scorching night of passion and play, they experience the most exquisite pleasure – and discover kinky new thrills they never dared to imagine. Because when it comes to knocking boots, cowboys do it best…