YES! After waking up at 2 AM with a killer headache I almost forgot to blog today!!!
So without further ado, our winner for yesterday is……..#3 DONYA!!!!!!! Please email me at amie at amiestuart.com and let me know which Steph Tyler Blaze you'd prefer. 
Not only is today our 13th day of love………it's FRIDAY THE THIRTEENTH!!!  Ok before I get on with today's blog post I have to tell ya'll a funny story. Sorry to those of you who have heard this. So a few weeks ago we're watching TV and a commercial comes on for the new Friday the 13th movie (drool Jared Padelecki!) and you hear the mom say in that creepy voice that "it's her son's birthday." And number one son, in the most serious tone of voice says, "I want to go see that and take a cake."
I say, "Why?"
He says, "So when the mom says it's Jason's birthday we can all stand up and sing."
*dies*
The things I put up with–anyway, how do you feel about remakes of cult classics like Friday the 13th? OMG Freddy Kreuger (Nightmare on Elm Street) turns 25 in October–I feel so old!!!! Do you love or hate the remakes? What's your favorite scary movie?
And since it's…you know….Friday the 13th, are you superstitious? Most writers I know are…at least a little bit–we never query during Mercury Retrograde. What about you? Very superstitious….or no?
Today's giveways include a print copy of Tracy Wolff's Full Exposure (NAL Heat) and a copy* of Surrender: tales of erotic submission from Eliza Gayle!  As well as your choice from my Aphrodisia backlist or any ebook (Please note I do NOT have e-copies of my Aphro titles–just Dancehall Diaries: LYnette and Once in a Blue Moon).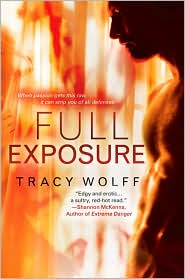 FULL EXPOSURE:
Sex and suspense steam up the sultry bayou in a bold debut from a sizzling new voice in erotic fiction.
Closing herself off from a traumatic past, photographer Serena Macafee likes sex with no strings attached- no commitment, just pure pleasure. Her new subject, sculptor Kevin Riley, is the perfect man to fulfill her hottest fantasies. Where better than the torrid wetlands of Baton Rouge where Riley works-and plays? But as their sessions heat up, so do Serena's intimate feelings for Kevin. And as her guard breaks down, her fears are aroused.
She's opening herself up to emotions she never wanted, and making herself vulnerable to a past she thought she'd escaped. One that has followed her to the sweltering Southern bayou, exposing her to the twisted fantasies of someone in the shadows, and to dangers beyond her control.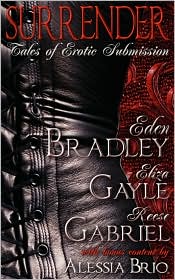 Three Phaze Bestselling BDSM stories, plus a bonus award-winning short!
Breaking Skye by Eden Bradley: Skye Ballard has always wanted to experience her fantasies of sexual submission. She craves to be commanded, taken over. She is convinced that all it will take to purge this yearning from her system is one night. Skye searches out the perfect Dominant for the job-it must be a man who is powerful, attractive, and naturally dominant. But when she meets Adam Dunne, she finds a man beyond her wildest dreams. Adam convinces her one night will not be enough for what he sees as a process, rather than a single experience. Skye soon discovers that being with him only makes her crave more. And while he begins with the idea of training her to be the perfect submissive-for someone else-soon all he can think of is making her his, making her yield. All he can think of is breaking Skye-and keeping her for himself.
Submissive Secrets by Eliza Gayle: After eight years of searching for him, Carli's ex-fiancee, Aidan, shows up naked in her bed. Finally she has her chance to show him she regrets leaving him on the eve of their wedding and get him back. But will she have the nerve to tell him the truth about herself and why she ran? Will her childhood sweetheart understand and accept her true needs as a sexual submissive? Forced to return to Carli on a mission, Aidan just wants to get the Intel he needs from her and get the hell out of town. Maybe with this reunion he can rid himself of her once and for all. Until a thorough search of her home unearths some secrets that shock him to the core. Was there more to her abandonment than he thought? With this new information, a plan formulates and he is determined to learn how far she will go when she loses her prized control.
Cupid's Captive by Reese Gabriel: John Cupid has no use for love. Domination is his thing, carefree flings with willing submissive females who crawl in and out of his bed like clockwork. When he is roped into taking his law partner's little sister Steffy out for Valentine's Day, he couldn't be more annoyed. He expects a night of baby sitting, but Steffy is all grown up now and she knows what she wants–a chance to be tied down and ravished in the bed of the man she used to call Uncle John. John tries to resist, but the little beauty proves to be the perfect slave for him. Could it be he is about to be hit by one of his name sake's infamous arrows?
Don't forget to comment to win. And remember tomorrow is the last day of the giveaways–Not only am I giving away my backlist…but an ebook from my good friends Karen Erickson (note to self: email Karen for title) and a copy of Wild Wild West from the lovely and uber-awesome Charlene Teglia!!!!
*The Book from Eliza Gayle is PRINT–I corrected this. My bad!