Not only did I get off work early on Friday, FedEx stopped by my house. Now, considering I didn't ORDER anything (for once heeh), I was thrilled to get a box of extra books. Not just extra copies of Hands On, or Nailed (which I did get) but extra copies of Hittin' It (which doesn't go on sale for like 23 more days).
Can I get a WOOT??!!?  Come on! You can do better than that!!!
That's better.
Love is…wow…interesting.  It comes in many shapes and sizes but I think the most awesome kind of love is that unconditional love we feel for our children.  Until they become teenagers, anyway.  Then it's a weird mix of yelling, hair pulling, gray hairs and … a hell of a lot of laughter.
Sorry Jodi but collic ain't got nothing on 15-year-old boys.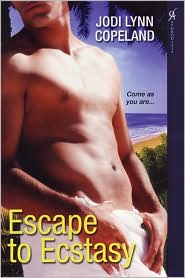 With that said, our first author giveaway is from new mom, Jodi Lynn Copeland.
So, today's winner will get some random books from my stockpile, a signed copy of Hittin' It andddd an autographed copy of Jodi Lynn Copeland's ESCAPE TO ECSTASY…
Sexual healing.there's nothing like it. And Ecstasy Island is where it happens. Meet two heroes who know exactly how to vanquish a woman's every fear and teach her to love-and fully live-again. But this erotic escape is by invitation only.

Killing Me Softly

Chris Cavanaugh considers it his calling to breathe new life into women with troubled pasts. From the moment he brings Claire Vaughn to the beautiful but isolated outpost of Ecstasy Island, he's surprised by her strength and spirit-and held captive by her sensual imagination and skill, night after night after night.

In Living Color

Treah Baldwin believes in greeting each one of the women sent to him to be healed with a literal sexual awakening. His hands-on technique does wonders for body and soul. Dana Lancer has never experienced anything like it. Finding scorchingly hot erotic bliss in his muscular arms becomes a reality straight out of her wildest dreams.
Once again, all you have to do to win some books that I KNOW you'll love is leave a comment. I'll announce the first winner at the top of tomorrow's post.
And since Jodi is a brand new mama — again! — how about some well wishes for one of the best kinds of love there is?