It was just a NUTSO weekend that started out with a leaky sink Friday night! But somehow or another I ended up w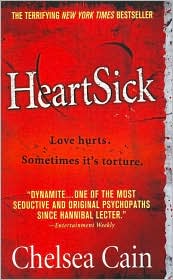 ith no kids on Saturday night *sigh* and got to sleep in late Sunday–except for the dogs.
I finally got the sink fixed Saturday morning, forgot to blog somewhere, ran all my errands and collapsed around 5. then got up at 8 to take #2 to a birthday party.
And stayed up to finish Chelsea Cain's Heartsick. I really *really* loved this book. It's very sparsely written, and that fits well with the graphic nature of the book. I didn't QUITE buy the twist at the end but I was totally okay with it….and a warning for you romantic suspense fans: the only thing resembling a romance in this book is between Archie (the cop) andGretchen (the serial killer who nearly did him in).
We also *lost* the dogs Saturday–they snuck into the neighbor's backyard. Then on Sunday we really did lose them…for 4.5 of the worst hours of my life. Luckily someone took them in.  They are fine. I'm still traumatized. AND of course, no writing on Sunday, no laundry, no cleaning so teh house looks like a bomb went off. All my good intentions out the window. I collapsed last night after dinner and watched the season finale of True Blood. If you saw it, what did you think?
I'm over at SFC today talking missed goals and new ones.