So did you watch the debate last night?
What did you think?
I typically don't follow politics (I know shame on me, right?) and I'll never claim to be uber politically savvy or particularly eloquen, but I am a middle class American.  I work a full time job and I write.  The ex and his wife also work full time jobs (the ex often more than full time).  So I've paid a lot of attention this year, especially in light of what's happened on Wall Street in the last week or so.  I've seen the clips of Palin's previous interviews so I wasn't expecting a lot.
Yes, I'm going political so feel free to disagree with me. It's okay….really. Whether you disagree with me or not I hope you vote because I think this election is the most important election in maybe 100 years if not ever.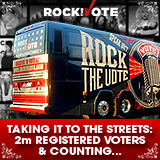 McCaine's 5k voucher for health care? Doesn't affect me. However, and this is a big however, 5000k will not buy a year's worth of health insurance for a family–at least not in this dimension. I work for a small company. My employer pays my insurance. If I lost my job tomorrow I wouldn't be able to get health insurnace because of a pre-existing condition. And my insurance that my boss pays for? Costs almost 900/month. Furthermore, the voucher system doesn't even address out of pocket expenses (if I'm wrong, please correct me). Two years ago I had to have an MRI. My cost? 1100.00. That's AFTER the insurance. And I had to pay up front. I had to borrow the money to have an MRI becuase I didn't have it laying around. Providing health care reform isn't just about giving us alternate ways to HAVE health insurnace, it's about giving us (and I mean us as in everyone) ways to pay all the out of pocket expenses that come with diseases like cancer which can quickly decimate a family.
And Palin…her "I'm so middle class, main street America and I get you" schtick…got old quick and did NOT endear me to her (not that anything could have).  I do not want to go get a pedi with her, or go drink with her, or join her book club, I want her to show me what qualifies her to step into McCaine's shoes if he falls over dead. In that sense, IMO, she failed miserably.
Do I care that Palin's a woman? Sure I do. And I hate her politics.
Am I biased? Yes.
Do I think Obama is the second coming of Jesus Christ? Honestly, no. But I do think he and Biden are the better choice–by and far!
Do I want four more years of what we've had the last eight years? No, cuz frankly, I don't think my arse could take much more.
In the words of Chris Rock, I'm voting for the dude with one house.
And on that note, Raine's asking what you think about our recession and the publishing industry.