Ok Since I posted this a little later than I planned, I'm going to leave the comments for this post open until NOON MONDAY CST and then pick a winner!
That's sixteen whole hours to comment!
The winner from Denise's drawing will be posted in tomorrow morning's post. I will probably also start a page for the winners, though most of you have contacted me. Thank you!!
So, you know, I'm a writer. And I have  to do *things* in the name of being a writer. I think they call it research 😀 Sometimes I have to research…well, let's just call it what it is–Kink. And I'll be honest, I don't research anything that doesn't interest me *VBG*And since Elizbeth's books can *ahem* push boundaries…where are your boundaries? Where do you draw the squick line in the sand?  What do you love?
Ok ok…what kink do you love to READ!!!! 
Up for this evening's giveaway is Elizabeth Amber's DOMINIC and a signed copy of Hittin' It and …other awesome bookish goodies. Leave a comment to be entered to win!
And….if you haven't (at the very least) checked out Elizabeth's covers….well click the link.  They're totally awesome!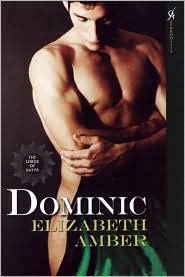 Emma anxiously awaits her husband's return home to Tuscany on
Calling night. She hopes that the night-long copulation will draw them closer
together for she questions whether they truly love one another. But when he
arrives, injured in battle and unable to perform, she learns she must mate instead with a lusty, full-blood satyr, who is also ElseWorld's greatest weapon . . .Dominic.
It's a night of hedonistic passion that leaves her wanting much, much more.