CONGRATULATIONS TO #13 MADD! Random.org chose you as our winner. Please email me at amie at amiestuart.com
You know, nothing says romance like…basketball.
Yes, basketball. At least, at my house anyway. I can't think of any more fitting a way to spend the Valentines weekend than watching the All Star charity game, the slam dunk contest and of course, the All Star game on Sunday night.
I'm curious….if you have a significant other in your life, do you love sports as much as they do, or do you just roll your eyes and leave the room?
I grew up with a dad who yelled at the refs so I avoid football like the plague….but basketball. Well, I'll admit, I've chased the kids out of the room with MY yelling at the refs! And I'm already pumped for March Madness!!!!
Up for grabs today is your choice from Stephanie Tyler's Blazes, a print copy of Hot Nights, Dark Desires by Steph Tyler, Sydney Croft and Eden Bradley!  Along with a copy of Hittin' It and other book-a-liscious goodies! So comment to be entered.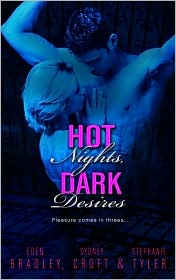 HOT NIGHTS, DARK DESIRES
Inspired by the sultry heat and sensual ambiance of New Orleans, this steamy collection delves into the erotic underground of the Big Easy. Here is a tantalizing trio of stories by three rising stars that will tease your imagination—and seduce your senses.

Lush, haunting, and provocative, New Orleans has something to satisfy every desire—as three very lucky women are about to discover. In "Shadow Play" an ex-supermodel desperate to revive her career seeks the help of a gorgeous, reclusive photographer with a special gift—and offers him anything he wants in return. The result is a series of erotic positions captured on film—along with a mind-blowing physical connection neither expected…. In "The Art of Desire" a sheltered young woman turned on by the idea of getting tattooed dares to make her fantasy a reality. But as her arousing sessions with a dangerously handsome tattoo artist move from the tattoo parlor to the bedroom, they make an impression that's more than skin deep…. And in "Night Vision" when artist Catie Lanford hires professional cooler Bat Kelly to whip the failing bar she's recently inherited into shape, she's not looking for a lover—until she lays eyes on the sexy wild man. Soon they've agreed to mix business with pleasure, and Catie discovers that Bat is just what she needs to set her artist's imagination—and her body—on fire.
Abandon your inhibitions and excite your spirit with a gathering of tales that's as sexy and spicy as the city of New Orleans itself.