Hey I blogged at Southern Fried Chicas today. Ya'll should totally go check out my 2008 goals.
Alright in an effort to keep better track of my reading, I'm going to start posting mini-book reviews as I finish a book. Let's see how 2008 shapes up!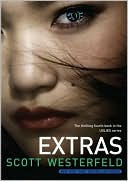 Even though I started EXTRAS in '07, I finished in '08 so that's where I'm putting it. It's the fourth book in the "Uglies" series but definitely stands alone.
Gaw, what can you say about Scott Westerfeld? If you read Uglies, Pretties or Specials then you know what I'm talking about. He's a PHENOMENAL writer and Extras definitely delivers. If you're looking for some great YA, with a romance, lots of adventure, fabulous word-building and just absolutely lovely writing, then you should definitely check it out.
Up next, Kitty and the Midnight Hour–which I'm totally loving!