A little over a year ago I discovered this uber-lovely blogger named Allison via Myspace.  It was instant adoration for me because, you see, Allison's a Lolly Winston fan just like me–plus she's really smart and generous with her time and always ready to answer writer's questions on her blog.  Anyway, I was lucky enough to score a copy of Allison's most recent release Time of My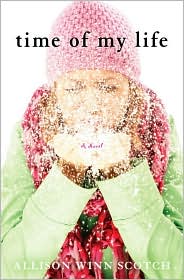 Life last week.
Warning: Blatant Promo Ahead *ggg*
Not only did Allison's debut book, Department of Lost and Found  go on my keeper shelf, after reading Time of My Life, I'm a fan for life–and this one definitely also deserves a place on my keeper shelf as well, because it's everything that good womens fiction should be…and the reason I love womens fiction like a fat kid loves cake*.
Does anyone remember Jude Deveraux's WISHES? (YES OMG I'm talking about that darn book again?!)…Remember when the "godmother" waved a hand and basically said, "I'll make her thin and then all her problems will go away," in reference to the heroine? Well, that's kind of like TOML–Jill gets a second chance with the one who got away and she's fully armed. She's more mature, she's more patient, she's more knowledgeable, she's more determined to make things work with Jackson, and initially believes that's all she needs to make it happen.  But in the end, she learns the one who got away isn't what it's all about. She is. TOML is truly a personal growth/karmic lesson kind of story.  (And I just loved Henry (the hubby)…I can't even tell you why without spoiling the book but the closet romantic in me (shhhh don't tell!) love love LOVED it!)  So if you're dying for some really fantabulous womens fiction that will totally leave you smiling, you should go pick this book up.
The only question I had by the time I was done was, "What happened to Meg?"  I wonder if Allison could be arm-twisted into writing a short *ggg*
I'm copying the blurb because I'm too lazy to write my own 🙂
Endearing Jillian Westfield seems to have it all: a loving lawyer husband, a healthy infant daughter, and a lovely home in Westchester County, N.Y. But cleaning spit-up and dealing with her husband's long office hours have begun to wear on Jill, and it hardly helps that she's just learned that her post-college boyfriend, Jackson, is getting married. The day after a deep, chi-clearing massage, Jill wakes up and finds herself seven years in the past, giving her the chance to revisit her life with Jack in Manhattan, when she worked as an advertising executive. Hindsight, of course, is anything but 20/20, and Jill's new choices hold unforeseen consequences for herself and those she loves. As Jill, through trial and error, rethinks her biggest decisions—such as her choice not to reconcile with her estranged mother—Scotch keeps one dexterous step ahead of page-flipping readers eager to guess the outcome.
Now, head on over to amazon.com or bn.com and buy a copy.
In the interest of making this more than just blatant promo, what book(s)/author(s) have you added to your keeper shelf this year?
——-
*"like a fat kid loves cake" TM Karen Scott